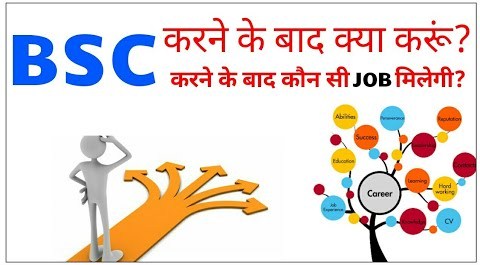 Bachelor of Science (B.Sc.) or B.S. is one of the most sought-after academic degree courses among the students of science stream after class 12th. The jobs after BSc are also confusing part. The period of the B.Sc. degree course ranges from 3 to 5 years, depending upon the country in which the candidate is studying, for example, In India, the course is generally 3 years whereas in countries like Argentina the course duration is of 5 years.
The B.Sc. degree course is an undergraduate degree course in Science. The student has the discretion to opt for either part-time or for full-time courses. This course forms the basis of science subjects and encompasses subjects like physics, chemistry, biology, and mathematics. With the improvements in the fields of science and technology, this program has become one of the highly popular degree courses in the universities of India.
After the completion of the B.Sc degree, there are various ways present for the science students, with which they can earn money in their life. They also have the option to go for master degree in Science i.e. M.Sc, if they desire so. They also can go for persuing in a research area and can even look for professional job. Often, in some reputed universities or colleges in India and abroad, the students are recruited directly by big multi national companies, after their completion of the course.
Besides the research jobs, students can also work or get jobs in Marketing, Business & other technical fields. They can also be employed as Scientists.
Scientists – Scientist is a person or an individual who is studying and has expert & skillful opinions of one or more of the natural & physical branches of sciences. Scientists are necessarily required in various application-based fields like agriculture, social science, physical science, engineering, technology, space research, and many others fields. There is no lack of job opportunities that are offered to scientists in the government sector as well as in private organizations. With a research degree, a scientist can successfully find jobs in India as well as abroad.
Scientific Assistant – A scientific assistant is a person who plays the role of an assistant to a scientist practicing in their labs. He helps the main scientist in his day-to-day events. He performs basic steps of experiments. A BSc graduate is basically an intern to the scientist.
Research analyst – A research analyst is a scientific professional who prepares the research reports on securities or assets for in-house or client use. He analyses and interprets the research and helps the management to arrive at conclusions and make decisions. Research analysts can work at a number of companies, such as asset management companies, investment banks, insurance companies, pension funds, brokerages, or any business.
Teachers – BSc students can take up the course of teaching. BSc students can take up the teaching of science subjects, which could be of mutual benefit for both teachers and students. Teachers get jobs while students get knowledge and experience from the teacher.
Chemist – A chemist is a person trained in the study of chemistry. Chemists have to carefully measure substance proportions of chemicals, rates of chemical reaction, and other chemical properties. Chemists use their knowledge of chemistry to learn the composition and properties of unfamiliar chemical substances.
Lecturers – Chemists also have the option of taking up the job of lecturers in universities. These lecturers give lectures on scientific topics in universities and thus, get employed.
Government Jobs – After pursuing BSc, a candidate can go for government jobs also. He would be particularly welcome in the scientific wings of a government like ISRO. A candidate possessing such a degree can also vouch for a job in railways, the banking sector, and other government wings.
Thus, there are too many options for career growth for BSc students. The above-listed options are examples of jobs after BSc.