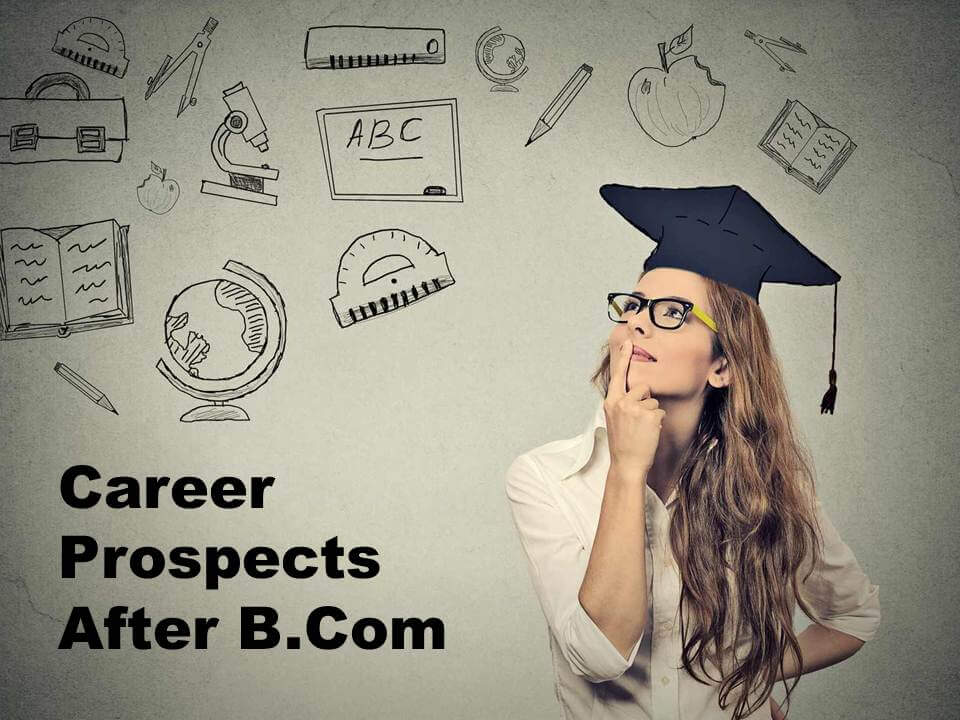 Many of the B.Com students in their final year are troubled by the thoughts of what to do after they complete B.Com? B.Com is among the key most popular commerce courses in the country and many students opt for it after the completion of their intergradation. But the big question is the Career Prospects After B.Com. Well, most of the students go for an MBA degree/ M.Com./ Certificate courses with the purpose of enhancing their skills and increasing their employability, but many are unable to sustain the academic momentum and start searching for jobs.
The several job opportunities available to fresher graduates of Bachelor of Commerce [B.Com] curriculum are listed below:
Auditors–  An auditor is a professional or a firm appointed by an organization to execute an audit. To act as an auditor, a person should be certified by the respective regulatory authority of accounting and auditing. He needs to have the required skills in order to get the certification. A B com fresher needs to work as an intern with a practicing auditor to develop his auditing skills.
Actuaries- An actuary is a professional who deals with the measurement and management of risk and uncertainty. Whenever there is business, there is a huge risk involved, whether the business will be successful or not. It is the duty of the actuary to analyze and interpret the risk in business. The name of this scientific field is actuarial science. These risks can affect both sides of the balance sheet, assets, and liabilities. Actuaries help in providing assessments of financial security systems, with a focus on their complex nature and their mechanisms.
Bookkeepers – Bookkeeping is the process of recording of financial transactions. It is a fraction of the process of accounting in business and other organizations. The persons involved in the bookkeeping process are called bookkeepers. It involves preparing records and vouchers for all transactions and events of a business. The job of bookkeepers is of clerical nature and suitable to be performed by the freshers of B com. A B. com graduate working with a CA as a bookkeeper is a perfect example of this.
Budget Analysts – Budget analysts are those responsible for the handling of budget matters. They have to analyze, interpret and help the management in formulating policies with regard to budget. It is their duty to make the organization understand the budget policies of central and state governments. As a B.com intern who would be used to on topics of accounting, this would be a normal task.
Certified Public Accountant- Certified Public Accountant (CPA) is the title for qualified accountants in numerous countries of the world. It is generally the same as being called a chartered accountant. Every CA aspirant is required to do an article for a period of three years with a practicing CA. Articles in CA is similar to internship and gives an edge to the aspirant for his CA preparation.
Entrepreneurship – Entrepreneurship is the process of creating value. With this definition, entrepreneurship is viewed as a risk-taking enterprise. Risk is what is normally encountered in starting a business. When a B.com student completes the course, he knows about the basics of doing trade and commerce. His knowledge pursued in college life can be instrumental in setting up a business of his own. B.com students are for this specific purpose are taught the skills of entrepreneurship. 
Financial Analyst – Financial analysts are employed by mutual- and pension funds,  securities firms, banks, investment banks, insurance companies, and other businesses, with the purpose of helping these companies or their customers make investment decisions. Incorporate organizations, financial analysts take care of the budget, revenue, and cost modeling as their responsibilities. A young B.com fresher can be a suitable person for the post.
Thus, there are several job opportunities after completing B.com and these are just few examples of Career Prospects After B.Com.