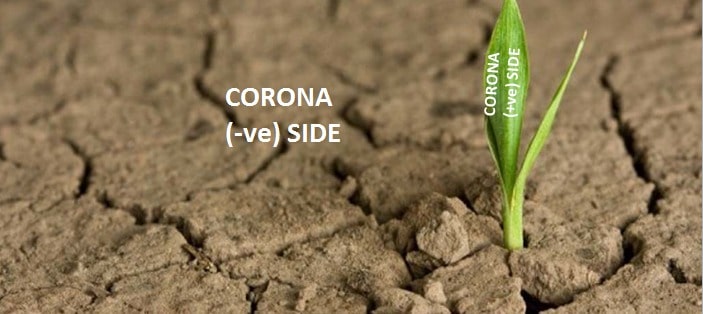 Coronavirus, Yes a virus which is nowadays is said to be a deadly virus. A virus which takes life so easy and everyone is so afraid of. But as we all know that every coin has two faces like every situation have two ways of seeing the situation. We know that now a day's world is going through a very sad and disappointing phase of everything but there is always a second side also Corona Positive Side. Some things are becoming better also. So through this blog we the team want everyone to realize that where are we going.
Corona Positive Side | On Environment
Yes environment a very important thing in our life which provide us with the best they could and what we have provided it. Nowadays as we are afraid of moving out of our home but Environment started healing itself, "YES IT'S A GOOD NEWS". Many are the following
Ozone layer over Antarctica is Healing
Reduction of Co2 in Environment
Holy Rivers like Ganga and Yamuna are improving there water quality.
Less Pollution
Fresh Air
Clean Sky
Less use of Plastics
and many more.

And this just because we are going out only for the necessities. Just by doing little, we are doing great for our environment.
Corona Positive Side | Quality Time Spending
Yes due to this coronavirus we all are stuck in our home. If we will think like we are stuck then "WE ARE STUCKED" but for a moment if we will think that we can give this time as quality time to those whom we are ignoring or we can say we want to give the time but not able to give it. So here is our chance for them to spend quality time. Some are watching Ramayana Mahabharata to recall their values or some are playing carom or luddo and regaining their old life.
Corona Positive Side | Self-enhancement
Yes many people are even using their time as their "SELF TIME". They are using it to know them individually more. In every field, like the most famous and most favourite we are observing is cooking. Yes, people are loving their cooking skill even they are realizing that they are a good cook. Some are doing sketching colouring and many more in which they are feeling interested or they left out somewhere in their running life.
So this blog is not for that we are not seeing the worst, we are as a nation going through but just for a reminder that when this mess is over we continue the good part that we have learned.